Eric Lockley is an artist and media maker invested in acting in, writing and producing work that inspires communities of color to confidently move towards joy and unabashedly embrace possibility. He does this through comedy on stage and screen, as well as through his own projects. Current projects: Digital Series, Blacker (Actor/Writer) and What To Send Up When It Goes Down (Producer).
CURRENT
OFF-BROADWAY SHOW: "#DateMe"
Performing in New Off-Broadway Musical Comedy About Online Dating
This unique comedy with music and improv explores online dating through one woman's ambitious experiment. All actors play various characters and with improv integrated into the show, each performance is sure to be one-of-a-kind. YOU may even wind up on stage. Come see us this summer! Tickets are available at www.datemeshow.com or get discount tix on TDF or TodayTix.

"BLACKER"
Comedic Digital Series Co-Written by & Starring Lockley
Check out the first two episodes of "Blacker" a comedy exploring what happens when some real-life Black girl magic suddenly puts a White man in a Black man's shoes. Co-created, co-written and starring Rhett Owen & Eric Lockley, the series addresses white privilege, entitlement, and the absurdity at moments of being Black in America. Click HERE to visit our site and experience our first episode below. More to come in 2019!
THE MOVEMENT
Lockley's Company Produces "What To Send Up When It Goes Down"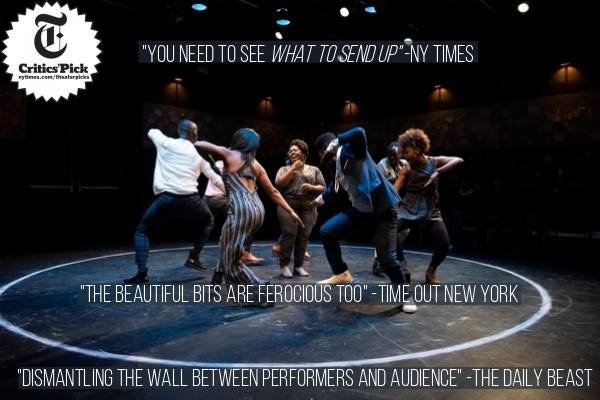 Lockley is founder and current Producing Artistic Leader of The Movement Theatre Company, a Harlem-based organization that's creating an artistic social movement by developing and producing new work by artists of color. Fall of 2018 their production of Aleshea Harris' "What To Send Up When It Goes Down" received rave reviews (NYTimes Critic's' Pick) and touched many lives. The hit show which is a unique participatory experience explores the absurdity of racially-motivated violence and was created as a tool for healing for black people. Learn more and stay updated about the future of the production HERE.
LUKE CAGE
Eric is in Season 2, Epi 1 of Netflix & Marvel's "Luke Cage"
Eric made his Netflix debut this summer with his work as "Corner Kid" on Luke Cage. Entertainment Weekly called Lockley's feature, " . . . probably the most entertaining part . . .". If you haven't already be sure to check out Episode One of Season 2 and watch Eric encounter Harlem's own superhero!
ONGOING
MUSICAL IMPROV
Performing Wednesdays at The People's Improv Theater (The PIT)
Eric gets his Wayne Brady on! Every Wednesday Eric performs musical improv with his team "Elevator Talk", making up a musical from an audience suggestion. Performances are FREE and happen at the world renowned comedy theater, The PIT (123 E. 24th St.) at 8pm.
PARODY MUSIC VIDEOS
Sing-Along and Laugh at Chanel & Eric's Parody
Bruno Mars and Cardi B inspired this melanin-drippin' remix of Finesse celebrating our favorite month of the year, Black History Month! Get all the way IN to this Chanel & Eric parody video. And click HERE to subscribe to their channel and be the first to see their parody videos.
ERIC'S AWARD-WINNING SHORT, "THE JUMP"
Stream Lockley's Inspirational Short on Amazon.com or via Xfinity Cable
Follow Eric's stories - inspirational, silly and sing-songy - on his social media: @iamericlockley